Cao Bang Province is located in the Far North- East, shares borders with China on the north and east, Bac Kan and Lang Son provinces on the south, and Ha Giang and Tuyen Quang provinces on the west. The topography is complicated so inter-transportation is limited.
Area: 6,724.6 sq. km.
Population: 513.1 thousand habitants (2010)
Capital: Cao Bang City.
Districts:Bao Lac, Bao Lam, Ha Quang, Thong Nong, Tra Linh, Trung Khanh, Nguyen Binh, Hoa An, Phuc Hoa, Quang Uyen, Ha Lang, Thach An.
Ethnic groups: Viet (Kinh), Tay, Nung, Dao, HMong, San Chay...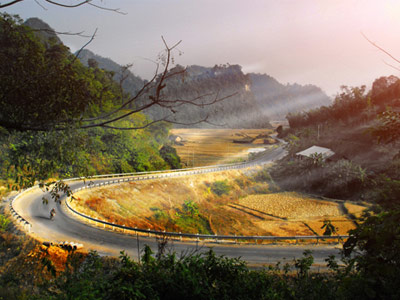 The cool weather combining with beautiful sightseeing of nature and forests bring an advantage to develop ecotourism in Cao Bang. The famous sites include: Thang Hen Mountain, Lake in Tra Linh, Ban Gioc Waterfall and Nguom Ngao Cave in Trung Khanh. Ban Gioc Waterfall, which locates near the border between Vietnam and China, probably is one of the most beautiful waterfalls in Vietnam with the height of thirty meters. It is separated into three falls by rocks and trees. The waterfalls make the voice so thundering that it can be heard kilometers far away.
There are several sites of war heritage about Vietnamese revolution under the French colonial time includes Pac Bo, Coc Bo Cave, Lenin Stream, and Khuoi Nam Stream where Uncle Ho had lived and worked before the August 1945 Revolution.
As other moutainous areas in Vietnam, Cao Bang is home to many ethnic groups as Tay, Nung, H'Mong, San Chay, Dao,... and more than 11 groups whose populaion is over 50 people. This brings a diversity in culture, a lot of traditional festivals which contain specific characteristics of ethnic groups : Long Tong Festival, Inviting the-Moon-Mother Festival (Moi Me Trang).
If you are interested in traveling Vietnam with us, please feel free to contact us at our website: Holidaytoindochina.com. We have carefully designed hundreds of Vietnam Holidays and Indochina tour packages that cover the most beautiful destinations and interesting activities to meet your every need, preferences as well as your budget conditions.